Why are there four skin types?
For ease of classification, the Script algorithm has reduced the skin type section of your skin profile down to one of four skin types – Oily, Combination, Normal and Dry. This can make our technology sound simple but when we consider the other components that make up your profile such as sensitivity level and skin concerns, the possible permutations jump up to a total of 13,440 possible skin profile combinations. From this, our dermatologist-created technology finds yours.
When we discuss skin type alone, we need to understand that we all fall somewhere on an infinite scale between dry as a chip and oily as a sardine, and that from season to season, or day to day, or even hour to hour we may move around on this scale. So keeping track of your skin type by regular reassessment using the Script test is important.
---
Just like in food, there are 'good' oils and 'bad' oils, in the skin.
The 'good' oils are those such as ceramides, which are instrumental in keeping our skin supple and our barrier function healthy. And then there is the oil known as 'sebum' which is produced in the second layer of the skin ( the dermis) and exits through our pores. The over production of sebum is what results in an 'oily' skin type.  When treating oily skin, you need to be careful not to strip away the good with the bad.
---
What is barrier function?
When we talk about barrier function, we are referring to our skin's number one job, which is to protect our internal organs. It does this by providing a physical barrier between them and the outside world, and in order to do the job optimally it needs to be cohesive and in balance. The skin's surface is a complex microbiome which allows certain healthy flora to flourish, while it's acidy works to eliminate toxic bugs that land on its surface. A disruption to the skin's microbiome or barrier function can happen easily and one such example of this is the presentation of oily skin.
---
The importance of not stripping oily skin
Here at Script Skincare it's common for us to find that people who have oily skin, have compromised their skin barrier function. This is because in order to eliminate that slick feeling, they have used overly harsh products such as toners that contain a lot of alcohol. As described above and below, oil is not produced in the top layer of the skin, so this practice is completely useless and does much more damage than good. A much better practice is to use active ingredients that have the ability to burrow into the pores, these ingredients are called 'comedolytic' and a great example is Beta Hydroxy Acid (AKA BHAs or salicylic acid).
---
Is oily skin always associated with enlarged pores and acne?
Oily skin is often related to these skin concerns. This is because the oils that give you that slick feeling come from your oil glands in the second layer of your skin (the dermis), they are attached to a hair follicle and exit the skin through a pore. The oil gland increases its output considerably at puberty and as the oil increases so does the size of the pore. Acne can have a number of causes, however acne lesions occur when the pore becomes blocked and the oil can't get to the surface, therefore it is not uncommon for this skin type and these two skin concerns to go hand-in-hand.
To find out more about what causes acne, click here.
To find out more about how oily skin and pores are related, click here.
---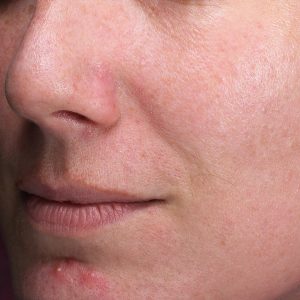 ---