Why are there four skin types?
For ease of classification, the Script algorithm has reduced the skin type section of your skin profile down to one of four skin types – Oily, Combination, Normal and Dry. This can make our technology sound simple but when we consider the other components that make up your profile such as sensitivity level and skin concerns, the possible permutations jump up to 13,440 possible skin profile combinations. From this, our dermatologist-created technology finds yours.
When we discuss skin type alone, we need to understand that we all fall somewhere on an infinite scale between dry as a chip and oily as a sardine, and that from season to season, or day to day, or even hour to hour we may move around on this scale. So keeping track of your skin type by regular reassessment using the Script test is important.
---
What causes dry skin?
Dry skin is not all it's cracked up to be. Wait. What? What we mean is a dry, cracked, visibly flaky surface, which are all signs that your skin is not functioning as it should. It's not 'normal'. Shedding skin cells might sound gross, but in fact when your skin is functioning in a healthy manner, this happens constantly, and you don't even notice. There are many reasons that this healthy turnover gets corrupted and becomes visible on the surface. The good thing about dry skin is that it is easily identifiable, you know you have dry skin because of both the feeling it creates and its appearance.
---
What is barrier function?
When we talk about barrier function we are referring to our skin's number one job, which is to protect our internal organs. It does this by providing a physical barrier between them and the outside world, and in order to do the job optimally it needs to be cohesive and in balance. The skin's surface is a complex microbiome which allows certain healthy flora to flourish, while it's acidy works to eliminate toxic bugs that land on its surface. A disruption to the skin's microbiome or barrier function can happen easily and one such example of this is the presentation of dry skin.
---
Is dry skin always sensitive?
Dry and sensitive are often thought to go hand-in-hand, but this is not the case. For example, skin that has sustained excessive sun damage over a long period time can be extremely dry and thickened, and also be incredibly insensitive.
To find out why sensitivity is not a skin type click here.
---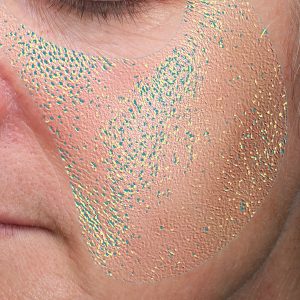 ---
What are some of the things that can cause dry skin?
skin disease such as eczema
the use of inappropriate skincare products
genetics
sun damage
the use of alkaline products such as soap
To learn more about the pH of our skin click here
---
Dehydrated skin versus dry skin
When people talk about dehydrated skin they are referring to an issue with maintaining water balance in the top layer, which is just one possible reason your skin may feel dry. Dehydrated skin may come about because of something as simple as using a product that strips your skin, meaning it can be easily fixed by using an appropriate product such as a humectant moisturiser. It may also occur because of a more complicated skin barrier issue meaning that the two can't always be separated.