Why are there four skin types?
For ease of classification, the Script algorithm has reduced the skin type section of your skin profile down to one of four skin types – Oily, Combination, Normal and Dry. This can make our technology sound simple but when we consider the other components that make up your profile such as sensitivity level and skin concerns, the possible permutations jump up to a total of 13,440 possible skin profile combinations. From this, our dermatologist-created technology finds yours.
When we discuss skin type alone, we need to understand that we all fall somewhere on an infinite scale between dry as a chip and oily as a sardine, and that from season to season, or day to day, or even hour to hour we may move around on this scale. So keeping track of your skin type by regular reassessment using the Script test is important.
---
The reason that oily and dry skin can happen simultaneously is that each condition occurs in a different layer of the skin.
Combination skin is the most common skin type and is simply a mixture of oily and dry occurring at the same time. Combination skin can happen in a few different ways, but the most common occurrence is dryness over the entire face, with oily areas occurring where we have larger pores including the forehead, inner cheeks, nose and chin, the area known as the T-Zone.
---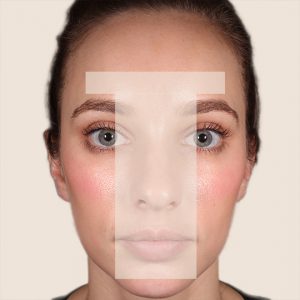 ---
Why does my combination skin feel different everyday?
Like skin types in general, combination skin is on a spectrum. Unfortunately the difficulty with this skin type is, that it can feel not only very different from one area of the face to another, but also, from one day to the next. Some people may wakeup feeling quite dry but become oily as the day progresses, while others will feel oily all the time in the T-Zone and quite dry on their cheeks and crepey under their eyes.
To find out more about dry skin, click here.
To find out more about oily skin, click here.
---
The importance of balance
Managing this skin type is all about balance. If you are really committed you could consider having two sets of basic products (cleanser, moisturiser and sunscreen) to use on particular areas of your skin, or on particular days, depending on how your skin is feeling. For example, you may have a cleanser that contains Beta Hydroxy Acid (BHA, salicylic acid) for days or areas that feel oily, and a more nourishing cleanser for days or areas that feel dry. If this feels too much like hard work, we recommend products that are very neutral. Don't go for anything too harsh and stripping as it will compromise the dry areas of your skin, neither should you go for anything too thick and rich as it will make your oily areas feel slick and also has the potential to clog your pores and encourage congestion and breakouts.
---